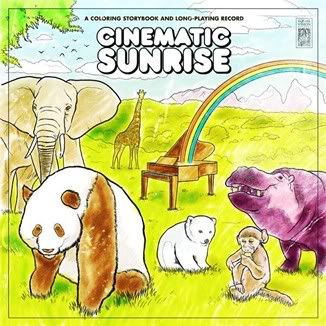 Band: Cinematic Sunrise
Album: A Coloring Storybook and Long Playing Record EP
Genre: Piano Rock/Pop
Label: Equal Vision
Tracks:
1. Pulling A Piano From A Pond
2. Goodbye Friendship, Hello Heartache
3. Umbrellas and Elephants
4. Our Honeymoon at Weston Hills
5. The Wordless
6. You Told Me You Loved Me
Craig Owens and Bradley Dean Bell from the emo heavyweight band Chiodos, along with a few other musicians [Bryan Beeler, Marcus Vankirk, David Shapiro] have come together to form Equal Vision Records next top selling act, Cinematic Sunrise. Unlike Owens' and Bell's other project, Sunrise is softer, more piano driven music much like Something Corporate, but with a slightly heavier sound. Their long awaited debut release, A Coloring Storybook and Long Playing Record [Yes, the liner notes are actually a coloring book and you get free crayons with purchase of the ep] was just released and to put it simply: they far from disappoint. Only six songs in length, this release is captivating and engaging like few bands out today can do.
From the moment, "Pulling A Piano From A Pond," begins, you now you've just begun listening to something special. Bradley Bell's piano work, which unlike in Chiodos is much more expressed on this release, pulls you in from the very first few measures. Also, by the time the rest of the band kicks in, it's apparent that the production work of Bryan Beeler is quite stunning. The album simply sounds amazing, regardless of if it's your particular taste in music. The drums sound very full, the acoustic guitar compliments the keys, and don't even get me started on Craig's vocals. True to form, Mr. Owen's high pitched vocals come chugging through like a train you need to reckon with, but unlike his work in Chiodos, Owen's is able to bare a bit more of his soul through his voice and it is quite compelling. The following track, "Goodbye Friendship, Hello Heartache," is much more acoustic driven, but is still quite strong. Lyrically, I feel like Owen's is taking bit of a step back here, but sonically the song is so well crafted that it's hard to say anything to bad about one aspect of it. This song would make a solid end of summer single choice for the band as it has this fun, yet relaxing feel to it that would fit perfectly for those last days of chilling out before the fall school sessions begin.
"Our Honyemoon at Weston Hills," is probably the "hardest" song on the album [though that's like picking the hardest Dashboard Confessional song]. It does a great job making the band feel like an entire unit than a bunch of musicians playing together. Everything compliments each other quite well, but is Bell's piano work that really seems to shine through. It's not expressed at the front of the overall sound, but rather sits in the background guiding the listener through the song and it does so quite wonderfully. Following this track we find the real bread winner of Cin Sun's material: "The Wordless." This song, which has been around for awhile, is not only single ready, but could launch the band into places not even the great Chiodos has ventured just yet. The song stays true to the piano/acoustic mix that carries throughout the EP, but also uses additional electric guitar and has a catchy drum track that gets you moving. All of this paired with Owen's undeniable vocals makes me think this song could crack mainstream radio quite quickly. It's upbeat and fun so it'd be a perfect summer release and it's got the heart to make it stay relevant for awhile.
The EP closes with, "You Told Me You Loved Me," which is not only the ballad on the disc, but also the longest track of the whole record. The song is mainly Owens and Bell, but the rest of the band does join in as the track prgoresses. Craig's voice shines on this track especially as the lighter accompaniment puts a lot of the song's weight on him [which he carries amazingly well]. It's a perfect cap to a great EP that's full of emotion and great craftsmanship.
Cinematic Sunrise is a band with a lot of potential. A Coloring Storybook and Long Playing Record is the perfect launching pad for the band and is sure to be in the top ten of many people at the end of the year. Chiodos may be the Owens and Bell's primary band, but Cinematic Sunrise has the potential to even surpass that in terms of success. Not only is this EP well made and solid, but it's top 40 ready and if you miss out on this release, you'll be kicking yourself when you hear about it from everyone you know who has any good taste whatsoever.
*Written By: James Shotwell*
GRADE: 8/10